This is Ma'ruf Amin's Suggestion for Indonesian Economic Growth
Original Language: Bahasa Indonesia
Post Date / Time: Saturday, 15 September 2018 20:12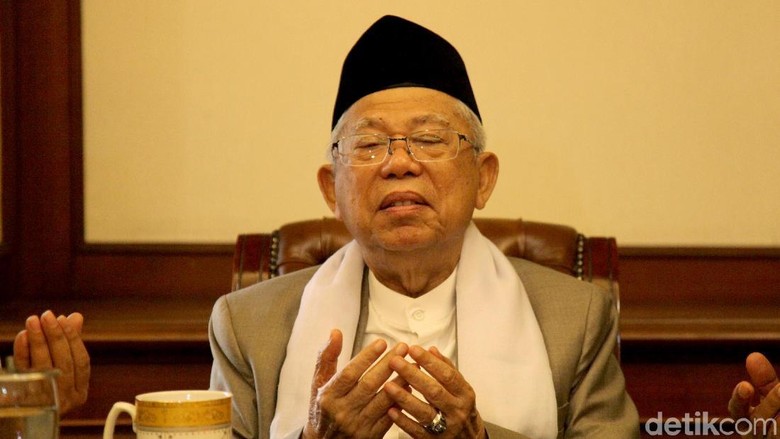 Vice presidential candidate KH Ma'ruf Amin (Photo: Lamhot Aritonang / detikcom)
Ibnu Hariyanto – detikNews
Pontianak
 – The vice president 
KH Ma'ruf Amin
 said the Indonesian economy must be more advanced. According to Ma'ruf, Indonesia must implement a new system which he calls the 'New Flow of Indonesian Economy'.
"I want our national economy to be built on the basis of Pancasila, especially the fifth principle. That is social justice for all the people of Indonesia. For that I carry the issue of the name 'New Flow of Indonesian Economy'," said Ma'ruf Amin while attending the National Dialogue at Mahkota Hotel. Pontianak, West Kalimantan, Saturday (9/15/2018).
Ma'ruf Amin explained the 'New Flow of the Indonesian Economy', namely national economic growth which eliminates and removes disparities or gaps. Starting from the gap between the rich and the poor, the gap between the regions and the gap between local products and global products.
He said that currently Indonesian local products are considered to be less competitive with global products. So there is a clash between imported and exported products in Indonesia.
"That must be removed (disparity or gap)," he added.
Then, Ma'ruf also gave the example of chocolate production in South Sulawesi which was called the price of only Rp 1,000. However, when the chocolate was in Singapore the price was Rp. 20,000.
"Like the chocolate products in South Sulawesi, the price is only Rp. 1,000 after going to Singapore to Rp. 20,000, there is Rp. 19,000 added value taken by Singapore. This should be given strength to the area which the government should present to provide added value," he said.
Ma'ruf said the government must be present in adding to the selling value of Indonesian local products. According to him, one way is to establish partnerships and maximize existing policies.
"The foundation has been built by Pak Jokowi since 2014, so this will be improved again," he said.
These foundations include policies on infrastructure development to a single price policy.
"In the future, it will strengthen the regional economy. Areas that have economic potential are built, strengthened regarding the problems of agriculture, animal husbandry, problems related to investment in the region, which will involve the elements of this area, which I think is important," he said.
Not only that, according to him human resources (HR) in each region must be improved. HR must be driven every region so that it has competitiveness and fighting power.
"It must also be supported by human resources who are well-educated and then have competitiveness and fighting power," he added.
(ibh / jbr)
top
CONTACT US
I-CHC.COM welcome your suggestion to correct our translation, for any inquiries or clarification please contact us:
CONTACT US IN CHINESE: SCAN WECHAT QR CODE ABOVE
CONTACT US IN BAHASA INDONESIA: SCAN WECHAT QR CODE ABOVE
NOTICE: I-CHC.COM is not responsible for any inconsistencies or inaccurate translations of the content @ I-CHC.COM