Ma'ruf Amin Prepares for a New Flow of Indonesian Economy with Jokowi
Original Language: Bahasa Indonesia
Post Date / Time: Tuesday, 18 September 2018 22:20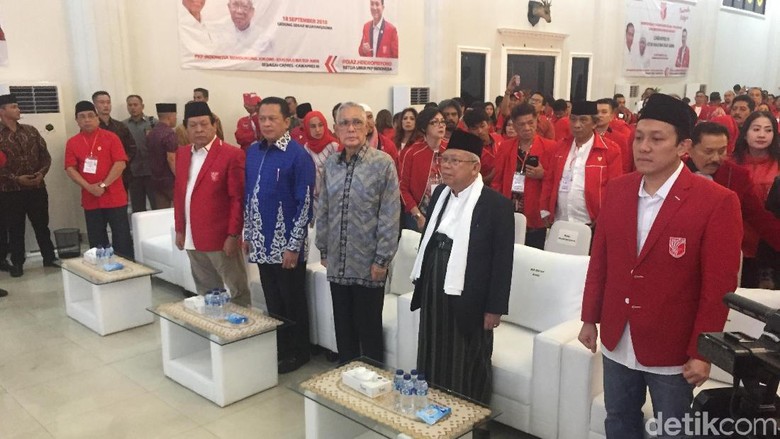 Ma'ruf Amin on the 1st anniversary of Muharram held by PKPI / Photo: Ibnu Hariyanto-detikcom
Ibnu Hariyanto – detikNews
Jakarta – Vice President Ma'ruf Amin hopes that the commemoration of the Islamic New Year 1 Muharram 1440 H will be used as a spirit towards hijrah or change.
"In 1 Muharram we will move from one thing to a better thing," said Ma'ruf Amin in the Sekar Wijayakusuma building. Cipayung, East Jakarta, Tuesday (09/18/2018)
This was conveyed by Ma'ruf Amin while attending the commemoration of Muharram's Islamic New Year1 held by the Indonesian Justice and Unity Party (PKPI). Ma'ruf Amin explained that he was also running the process of migration.
"I myself am undergoing the process of migration," said Ma'ruf.
Ma'ruf Amin explained that the hijrah process is moving from cultural habits as Rais Aam PBNU to Ketum MUI leading to structural habits as the 2019 vice president.
Ma'ruf asked for a prayer so that when he returned to meet PKPI cadres he had become vice president.
"I came here as a vice president, I hope to come back here as vice president," he said.
Ma'ruf said that he and Joko Widodo had already prepared a change for Indonesia. He called this change the 'New Flow of Indonesian Economy'.
"I want our national economy to be built on the basis of Pancasila, especially the fifth principle, namely social justice for all the people of Indonesia. For that I carry the issue of the name 'New Flow of Indonesian Economy'," said Ma'ruf.
Ma'ruf Amin explained the 'New Flow of the Indonesian Economy', namely national economic growth whose content eliminates and removes disparities or gaps. Starting from the gap between the rich and the poor, the gap between the regions and the gap between local products and global products.
Therefore, Ma'ruf Amin will help Jokowi to prepare it all. So that in 2024 Indonesia will be ready to take off.
"I hope the five years to prepare the RI foundation so that in 2024 Indonesia will be able to take off and can take off. So at this time, Pak Jokowi will run the runway, especially in the economic field," he said.(ibh / fdn)
top
CONTACT US
I-CHC.COM welcome your suggestion to correct our translation, for any inquiries or clarification please contact us:
CONTACT US IN CHINESE: SCAN WECHAT QR CODE ABOVE
CONTACT US IN BAHASA INDONESIA: SCAN WECHAT QR CODE ABOVE
NOTICE: I-CHC.COM is not responsible for any inconsistencies or inaccurate translations of the content @ I-CHC.COM