Forward Cawapres, KH Ma'ruf Amin Proposes a New Flow of Indonesian Economy
Original Language: Bahasa Indonesia
Post Date / Time: Tuesday, 04 September 2018 16:08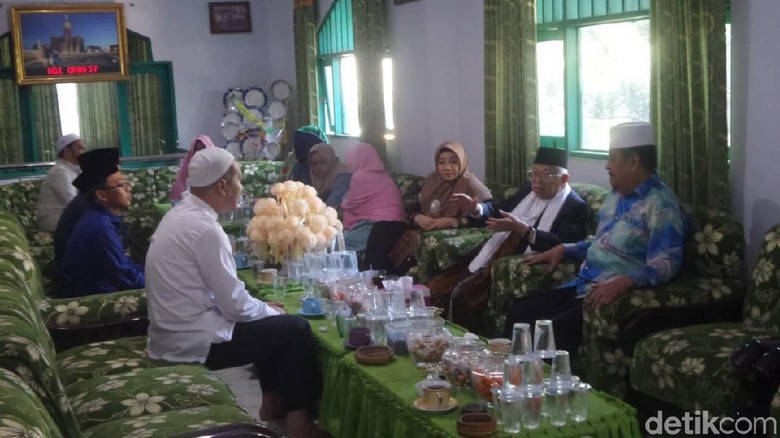 Eko Sujarwo – detikNews
Lamongan
 – Eradicating poverty, that is the reason 
KH Ma'ruf Amin is
 willing to become Jokowi's vice president. According to him, alleviating poverty is one of the obligations of every Muslim, and it can be done if it is within the government structure.
This was conveyed by KH Ma'ruf Amin during a gathering at PP Sunan Drajat, Paciran, Lamongan, Tuesday (04/09/2018).
According to KH Ma'ruf, in fact, Jokowi had laid the foundation of people's economy, including the issue of infrastructure development and the policy of redistribution of assets to be given to cooperatives and pesantren. In addition, said Ma'ruf, another policy from Jokowi is a matter of partnership.
"This is what we will make as the basis for the new flow of Indonesia's economy," he explained.
Ma'ruf said the core of the new direction of the Indonesian economy was to build the economy from the bottom and expected to eliminate the disparity between the lower and the top.
"Everything supports each other, does not weaken the strong but strengthens the weak and removes the gap so that it can compete globally," he said.
One of the currents built, according to Ma'ruf, is the empowerment of santri and Pesantren. Ma'ruf, who claimed to be proud to be part of the PP family, Sunan Drajat said that he would try to reduce economic disparity, one of which was done through Islamic boarding schools.
"Islamic boarding schools can be a center of economic empowerment so that they can inspire and encourage the surrounding community," said Ma'ruf Amin, exemplifying what was done by PP Sunan Drajat Lamongan.
This new flow of Indonesian economy, said Ma'ruf Amin, is an effort to empower. "My inspiration about this new Indonesian economy is from PP Sunan Drajat," he explained.
To the school caretakers and PP students Sunan Drajat, Ma'ruf Amin also asked for blessing and support to win the 2019 Presidential Election.
(Bdh / bdh)
top
CONTACT US
I-CHC.COM welcome your suggestion to correct our translation, for any inquiries or clarification please contact us:
CONTACT US IN CHINESE: SCAN WECHAT QR CODE ABOVE
CONTACT US IN BAHASA INDONESIA: SCAN WECHAT QR CODE ABOVE
NOTICE: I-CHC.COM is not responsible for any inconsistencies or inaccurate translations of the content @ I-CHC.COM